This is a Sponsored post written by me on behalf of Vectra flea & tick control for SocialSpark. All opinions are 100% mine.
Irie loves to roll in the yard. Really, really roll in the yard.
Usually it's not that she's rolling to roll on some found treasure (that's Tiki's specialty.) And usually it's not because she's got an itch that she just can't scratch.
But we always worry that she's got an itch–because flea and tick season is definitely approaching. Last week, Irie was at the vet for her annual checkup and the subject of flea and tick protection came up. You'll remember that last year Tiki came down with an unexplained fever that had her on an IV for two days. The vet was concerned that it could be a tick fever…so, since then, we keep a close eye on the possibility of fleas and ticks.
One flea and tick prevention that's available through your vet is Vectra. Vectra 3D® is a broad spectrum parasite control against flea and tick control. (For cat, only use Vectra for Cats and Kittens; do NOT use Vectra 3D® on cats.)
Vectra 3D® works by killing fleas BEFORE they have a chance to bite your dog (which, in turn, gives them the opportunity to transmit diseases to your dog.) It both kills and repels adult fleas while it also controls flea eggs, larvae and pupae that are about to become adults.
Vectra Protect the Love™ Sweepstakes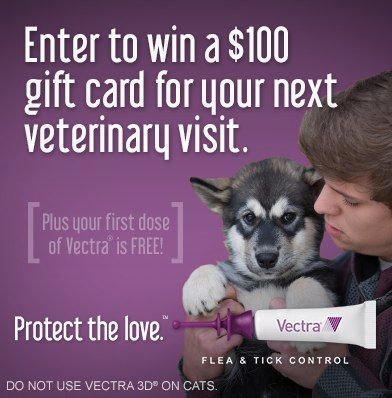 If you would like to try Vectra, you can enter the Protect the love Facebook Sweepstakes for a chance to win a $100 gift card to use at your next veterinarian visit. A gift card will be rewarded each week for the duration of the Sweepstakes.
But just by entering the sweepstakes, you can also claim a free dose of Vectra flea & tick control. After you enter, you'll print out a coupon for a free dose to redeem at a Vectra veterinarian near you. To receive your free coupon, just enter the sweepstakes, then visit FirstDoseFree.com to completet the form.
Video:
For more information:
***Protect the love™ is the official social identity of Vectra flea & tick control. Vectra is a product of Ceva Animal Health, LLC and has multiple formulas for dogs, cats, puppies and kittens.