It's beginning to look more and more like spring along our dog walking route! The mountain laurel have already started to bloom, along with the redbud trees in the area, so the wildflowers will only be a few weeks behind. Irie and Tiki are definitely ready for spring (although it has been a super mild winter)…they're already hopping in the creek every chance they get!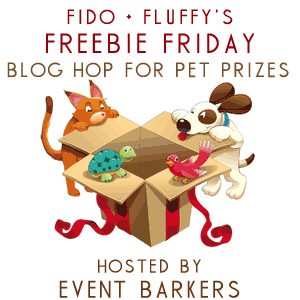 We hope you've had a great Valentine's week…and hope you have some time for entering some giveaways in the weekly blog hop that we co-host with To Dog With Love and CatTipper. Featuring giveaways for pets and pet lovers, this blog hop welcomes bloggers with pet-related giveaways.
Please link directly to your giveaway, not to your home page. (PLEASE don't link to non-giveaway posts.) We post a new blog hop every Thursday afternoon at 4pm ET.
Disclaimer: Each giveaway has its own entry rules. CatTipper, To Dog With Love, and DogTipper assume no responsibility for the legality of the rules governing the listings on other sites and giveaways that are posted here. We simply provide this forum as a gathering place for pet product giveaways to be offered. Fulfillment of each giveaway is done by the blog conducting the giveaway, not by the hosts of this giveaway hop; please contact the giveaway host with any questions regarding a giveaway or giveaway prize.