I've got some exciting news: this week I'll be headed to Las Vegas for the 2014 BlogPaws Conference! I didn't plan to attend due to budget restrictions but I'm so fortunate that BlogPaws will now be sponsoring me!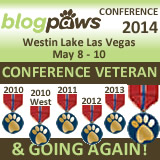 I'll head out on Wednesday for the conference, held on the shores of Lake Las Vegas. This pet-friendly conference is always a huge highlight of our year; I've attended every conference since the beginning (and spoken at several of them).
Unfortunately, John won't be attending this year. He's assisting three of his elderly relatives right now so he really needed to be able to help them at a moment's notice. He'll have plenty of company in my absence, though, with Tiki and Irie as well as Linus, Lucky, Inca, and Coco! And he'll be following along with my social media updates, and I hope you do, too!
I'll be covering not only the conference sessions but also sharing what's new for pet parents from the exhibit hall floor. I'll give you a roundup of news when I return home but, in the meantime, you'll be able to get photos and news as they happen on our social media accounts:
Watch out for some great BlogPaws swag giveaways this week!
My trip to BlogPaws is sponsored by BlogPaws. DogTipper.com only shares information we feel is relevant to our readers. BlogPaws is not responsible for the content of this article.