Has your dog had some tummy troubles and you're looking for a way to add flavor to his meal? Or are you looking for a way to squeeze a little bit more out of each treat recipe and create a flavorful gravy or frozen treat at the same time you make a chicken dog treat? The answer may be homemade chicken broth for your dog, an easy way to provide your dog a healthy treat for just pennies.
Learn how to boil chicken for your dogs to create flavorful, healthy broth at home (and enjoy some boiled chicken now or as a later treat–two treats in one)!
Homemade broth is super easy to make–and a better choice for your dog than commercial chicken broth, which often contains onion, of course a no-no for dogs.
This post may contain affiliate links.
Is Chicken Broth Safe for Dogs?
Homemade chicken broth is safe for dogs, and it provides an extra boost of nutrition. Store-bought chicken broth is safe for dogs if it is sodium-free or low-sodium and if it does not contain garlic, onion and spices.
Why I Make My Own Chicken Broth
Recently Barli had a bout of giardia so he spent a couple of days on a bland chicken and rice diet. To make it a little more flavorful, I used homemade chicken broth when cooking the rice–and even had enough left over to create some frozen treats for when he started feeling better a couple of days later.
I also make homemade chicken broth to substitute for the water in many savory dog treat recipes. It makes it more flavorful while adding extra nutrition!
How to Use Homemade Chicken Broth for Your Dog
You'll find many ways to use the homemade chicken broth in your dog's meals!
If you have a picky eater, ladle some warm (not hot) chicken broth over your dog's normal meal to add a flavorful and alluring touch to an everyday meal. Using broth as "gravy" is far cheaper than the bottled toppings sold for picky dogs and you'll know just what you're feeding your dog.
Broth is also an excellent way to soften dry dog food, perfect for older dogs and dogs with dental issues.
Use broth as a frozen treat.
Add chicken broth instead of water in your favorite savory dog treat recipes.
How to Use Broth and Chicken to Make a Frozen KONG
Boiled chicken for dogs as well as the broth is also a great dog treat, frozen in a Kong® dog toy.
Place the Kong upside down in a coffee mug, using a soft treat or bit of chicken to "plug" the small end of the toy.
Pour the boiled chicken and broth into the Kong then place it in your freezer for a long-lasting, healthy dog treat once frozen. (Always monitor your dog when giving any interactive toys to make sure your dog isn't tearing off bits of the toy.)
How to Boil Chicken to Make Your Own Broth for Dogs
It's extremely easy to make your own chicken broth either on your stovetop or in a slow cooker.
In a large pot, add three pounds of chicken and cover with water. Bring to a boil then lower the heat and simmer for about an hour.
That's all you need: chicken and water. For chicken broth for dogs, you do not want to add any spices or seasonings.
When done, use a colander to strain the broth. Save the meat for use in a meal or dog treat.
Don't forget: if you are not using deboned chicken, be sure to remove ALL bones before serving the chicken to your dog! Cooked bones are a splintering risk and can lead to punctures in your dog's digestive tract. Save the bones and make bone broth for dogs in your slow cooker!
Let the broth cool completely before use.
As the broth cools, the fat will congeal on the top of the broth. To reduce the fat in your dog's diet–especially important for dogs at risk of pancreatitis or dogs with an upset tummy–skim the fat off the chicken broth.
If your dog is not on a low fat diet, you can incorporate the fat back into the broth by warming it or skimming the fat and adding it in a dog treat recipe.
How to Store Homemade Chicken Broth — How Long Will it Last?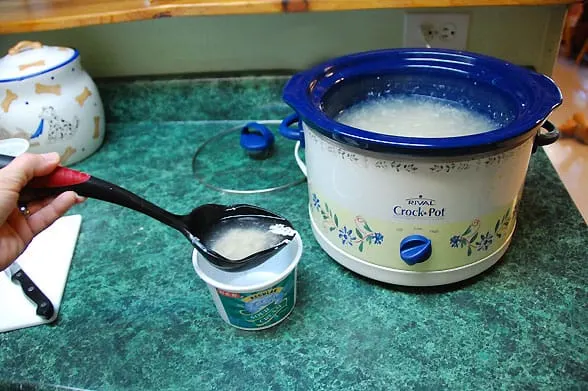 Homemade broth can be stored in your refrigerator for three or four days but if you have extra broth, ice trays are a handy way to freeze broth.
Once frozen, store cubes in zippered plastic bags for easy use in future recipes–or even as a quick frozen dog treat by themselves.
Want to Simplify the Recipe?
You can use frozen deboned, skinless chicken breasts to make this recipe even easier.
Chicken breasts are less fatty than thighs and other chicken parts, easier if your dog is experiencing tummy upsets. And by using deboned chicken, you won't have the worry of trying to find stray chicken bones in the broth!
Can't Make Homemade?
Don't have time for homemade? You can purchase chicken broth for your dog at the store–but take the time to read the label!
Look for preferably unsalted or at least low sodium broth–and don't buy any broth that contains onions or garlic.
Printable Recipe
Homemade Chicken Broth for Your Dog
Ingredients
One 3-pound chicken
Water
Instructions
Place chicken in a large stockpot and cover with three inches of water.
Bring to a boil then simmer for 1 hour.

Remove chicken from the water and reserve for another recipe.
Discard all cooked chicken bones because cooked bones are a splintering and choking hazard for dogs.
Refrigerate broth to skim off fat before freezing.

Pin it to remember How to Make Homemade Chicken Broth for Your Dog!